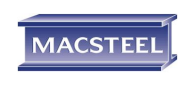 Macsteel Global Ltd, a UK-registered company, is the parent company of MITH, MUR, and the Macsteel Service Centres.
Macsteel Global Ltd and its subsidiaries are fully committed to the principles of good corporate governance and the application of the highest ethical standards in the conduct of its business. The Group complies, in all material respects, with the principles incorporated in the corporate governance standards in the countries in which it operates.
Today the Group strives to be the most dynamic and respected international service provider in the industry, linking producers and consumers of steel and similar commodities, by providing efficient and reliable communication and supply lines via marketing, shipping, logistics, and finance.
To learn more about Macsteel Global Ltd visit: https:// www.macsteelglobal.com/